I will update my web pages on this page.

This is my home page containing links to all of my other pages. They are mostly just pictures of the girls and the family. I will try to update it often. Check back every now and then to see what's new.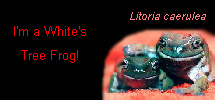 Also known as the Smiling Tree Frog or Dumpy Tree Frog due to the nature of its appearance, this frog is a very hardy creature and a favorite pet of amateur frog owners, although some pet owners complain that they are not active enough. These frogs love to eat, which can make them quite fat, hence their "dumpy" appearance. Unlike many frogs, these frogs do well with other frogs of their species and are fairly friendly. They like a warm and moderately humid habitat and eat larger insects like crickets, cockroaches, locusts, moths and beetles.
My Updated List of Links
Alicia's portraits:
Alicia's photo session: more pictures
Alicia's school pictures:
Melinda's pics: Melinda's baby pics
More pics of Melinda: with family members
Melinda's portraits:
Girls around the house: New pictures from Christmas season 2002
The girls together:
Mom's Angels:
My girls:
My Wonderful Family:
Family portraits from summer 2002:
Best Free Stuff: Web page with a Titanic theme and free stuff
The Kingdom of Denmark: Some facts and info about the country where I spent my Jr. year abroad
Color poems written by 4th graders:



This page has been visited

times.

Christina Taylor
taylor_christina@hotmail.com
18 Dalewood dr
Clarksville, TN 37042
United States